GOI is the biggest investor and has a lot of government schemes for startups & MSMEs. But what they are and what benefits do they offer?
The Indian government has been introducing many initiatives to promote businesses in India. The initiatives help businesses and encourage entrepreneurs and startups.
For instance, In the recent budget, the government announced the expenditure on Production Linked Incentive (PLI) schemes for small businesses in India.
What Types of Companies are Eligible for Startup schemes?
The government takes lots of turns supporting businesses in India and creating new opportunities for startups.
There are several initiatives had been introduced in the past and recent years. These initiatives have helped boost the startup culture in India.
To avail of these schemes, the company must fulfill the requirements.
Likewise, to be eligible for Startup India Scheme, your company must be registered as a partnership firm or any business structure with limited liability.
As we mentioned, all the schemes come with unique eligibility criteria to follow. I will talk about them in detail with each government scheme for startups.
Also Read: Nine pillars of digital India scheme and its mission
How Government Helps Startups?
The Government of India helps them grow by giving them access to many facilities. Some of them are as follows: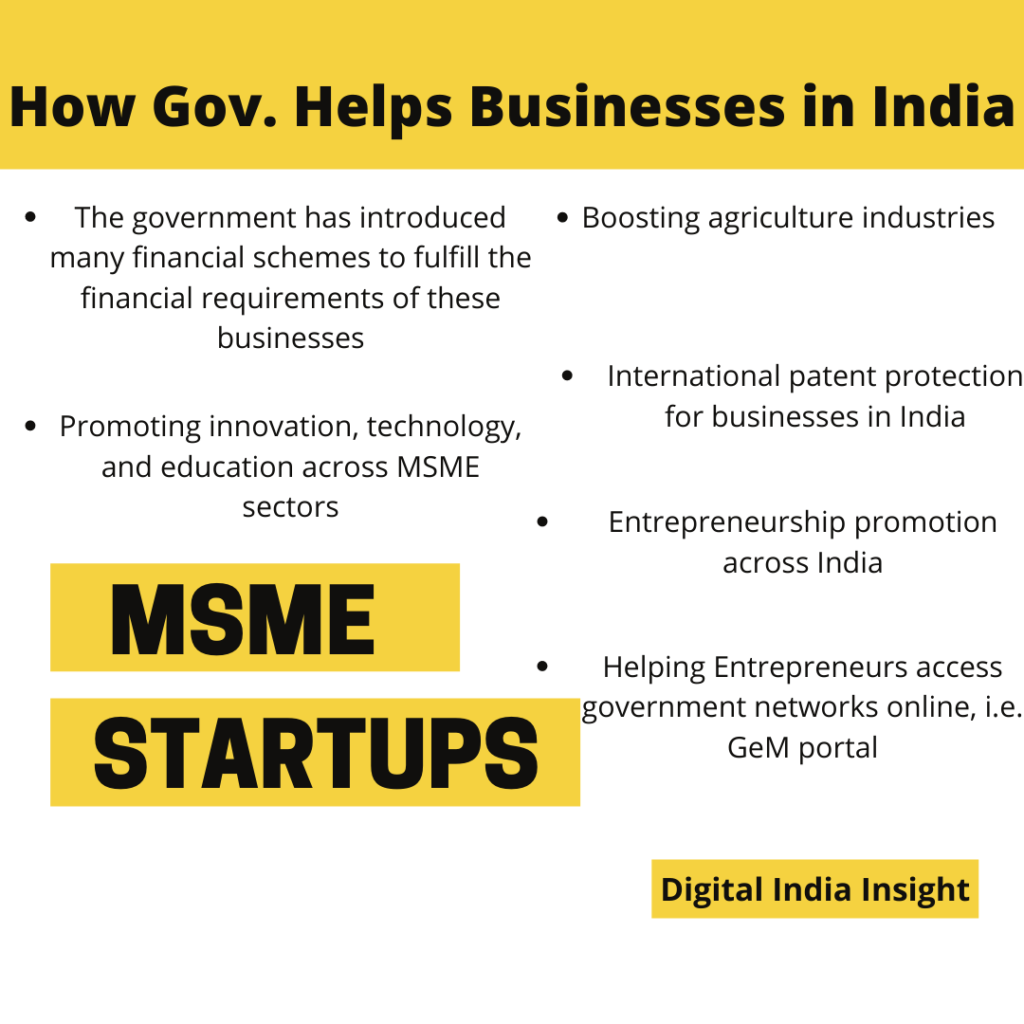 The government has introduced many financial schemes to fulfill the financial requirements of these businesses,
Promoting innovation, technology, and education across MSME sectors,
Boosting agriculture industries,
International patent protection for businesses in India,
Entrepreneurship promotion across India,
Helping Entrepreneurs access government networks online, i.e. GeM portal.
List of Government Schemes Available for MSMEs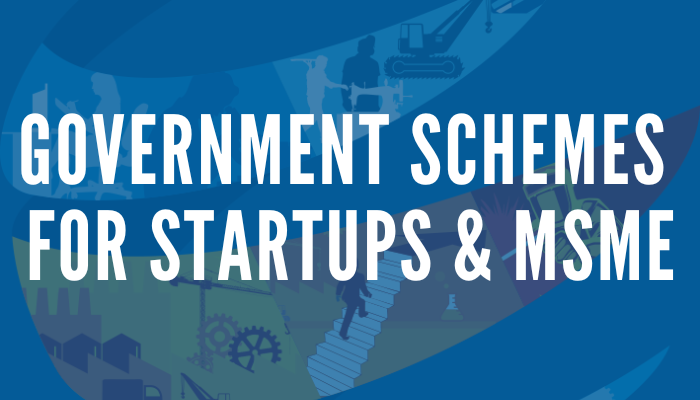 Here is the list of top government business schemes for startups and MSMEs that help them develop and prompt growth:
MeiTY Samridh Scheme
MeiTY stands for the ministry of electronics and information technology. The objective of this scheme is to provide government funding to support and promote the tech startup culture in India (especially the software startups bringing unique solutions to the problem.
Pradhan Mantri MUDRA Yojana
PMMY was launched on April 8, 2015, by the Hon'ble Prime Minister of India. Under the MUDRA yojana, borrowers are provided loans up to 10 lakhs. If you are an Indian citizen and have a non-farm and non-corporate-based business or planning for it can apply for the loan. The borrowers aged between 18 to 65 years old can avail of the loan from any public sector bank, NBFC like ziploan and bajaj finserv, RRBs, and more.
According to the officials, rupees 311491.40 crores have been disbursed by the financial year 2021-2022.
Credit Guarantee Trust Fund for Micro & Small Enterprises
The scheme was launched for MSMEs to make the process collateral-free. That means the borrowers do not need to collateral the assets to avail of the loan. There are no bars to becoming eligible for the scheme. It is available for all micro to enterprise-level businesses in India.
Design Clinic Scheme for MSMEs
The design clinic scheme was launched under NMCP. NMCP stands for national manufacturing competitiveness program. The purpose of the design clinic scheme is to allow the MSMEs in a region to develop their business.
The objectives of the scheme are:
Skill development to create a sustainable design ecosystem
To help the MSME sector compete against the global market
Provide financial help to gain design expertise
Spread awareness of the design value
Facilitate design learning.
ZED Certificate Scheme
ZED stands for zero defect zero effect. The government of India has launched this scheme to provide financial support to MSMEs. The main objective of the scheme is for the promotion of zero defect and zero effect among MSMEs to:
Enable manufacturers to concentrate on the quality of the product,
Help Make in India achieve its goal,
Provide a certificate assessment program to make professionals under the ZED scheme,
Encourage manufacturers to adopt the process of zero defect and zero effect and use energy-efficient and quality products.
ASPIRE Scheme
ASPIRE scheme launched on 16th March 2015. It stands for Scheme for Promotion of Innovation, Rural Industries, and Entrepreneurship. The objective of the ASPIRE scheme is to promote entrepreneurship and innovation in the agro-industry. ASPIRE is one of the government schemes to strengthen startups in India.
Raw Material Assistance Scheme
The Raw Material Assistance Scheme aims to provide financial support for the purchase of raw materials to MSMEs. If you are the manufacturer having UAM (Udyog Aadhaar Memorandum) can apply for assistance under the scheme.
Startup India Initiative
Hon'ble Primeminister announced the launch of the Startup India initiative on 15 August 2015. However, it was launched on 16 July 2016. Under this scheme, DPIIT gives recognization to eligible startups. It promotes the startup culture, creates financial opportunities in India, and increases job opportunities. There are multiple benefits of getting recognized as a startup by DPIIT.
Startup India Seed Fund Scheme
Startup India seed fund scheme (SISFS) is one of the government schemes for startups launched to support the early stage of growth of startups in India. It provides financial support to startups for product trials, prototype design and development, initial entry to the market, and commercialization.
Atal Innovation Mission (AIM)
Atal Innovation Mission (AIM) is one of the entrepreneur schemes in India that supports entrepreneurship and prompts innovation culture across the country. AIM was set up by NITI Aayog. It stands for National Institution for Transforming India and is an Indian Government policy think tank that is responsible for providing input on various schemes and policies of the Government of India.
Dairy Processing & Infrastructure Development Fund
To strengthen the dairy corporations and support agriculture and rural development, the government of India announced a dairy processing & Infrastructure development fund with a total corpus of INR 8004 crores from 2017-18 to 2019-20. The scheme was revised for 2018-19 to 2022-23 with an increased budget of INR 11,184 crores.
Support for International Patent Protection in Electronics & Information Technology
SIP-EIT is one of the startup schemes launched by the India Government to provide financial support for filing an international patent. The objective of this scheme is to encourage innovation in India by identifying the growth scope in Information Communication Technology & Electronics.
Multiplier Grants Scheme
Multiple Grants Scheme launched under DeitY ( department of electronics & information technology) that supports R&D academic institutions in collaboration with industries involved in the development of products and packages.
Software Technology Parks of India
Software Technology Parks of India (STPI) encourages startups and SMEs involved in software and technology development in India. The scheme STPI aims at promoting software export from India.
The Venture Capital Assistance Scheme
Small Farmers Agribusiness Consortium (SFAC) provides financial support to agri-businesses. The scheme supports businesses by providing no-interest loans to qualifying projects from the agriculture sector.
Stand-Up India Scheme
Stand-up India was launched to support women and SC/ST, entrepreneurs. Under the scheme one SC/ST and one woman borrower get a loan amount of up to INR 1 Crore.
Single Point Registration Scheme
Various Government Schemes for businesses have been launched to give back support to Indian startups. The main objective of the Single Point Registration Scheme (SPRS) is to allow MSEs to be exempt from Earnest money deposits when purchasing from government stores.
Make in India Scheme
Prime Minister Narendra Modi launched the Make In India project to provide quality goods to Indian consumers. Meanwhile, it facilitates various sectors like skill development, intellectual property protection, and improving manufacturing infrastructure in India.
Continue Reading: Make in India Scheme
Digital India Campaign for Micro and Small Business
The objective of this campaign is to make all government services digital. It has improved online infrastructure and internet connectivity. Digital India Campaign includes the plan to bridge the rural areas by providing internet connectivity.
Continue Reading: Digital India Campaign