The Government of India had introduced 9 pillars of digital India under the campaign. Due to the fact, the country has been transforming in recent years, with new inventions and innovations becoming commonplace. More or less, everyone is enjoying the benefits, whether it's about transferring money or paying taxes. These 9 pillars are nine areas that the government has planned to develop through the initiative.
Digital India Programme
The Digital India Programme was launched as a flagship scheme for the country's digitalization. It was to bring government services to the native people and improve digital infrastructure across India. The government has improved the services across all its department with the help of DeitY (Electronics and Information Technology).
The program is also improving infrastructure in Indian villages and connecting villages with the internet. Its goal is to digitize India and grow it digitally. That's why we now can access many government services online and make payments online too.
Nine Pillars of Digital India Mission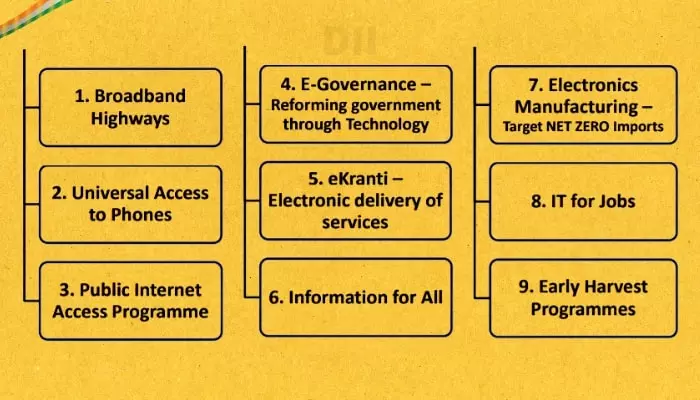 The Government has targeted 9 areas under this program for growth and digitization. Today, the digital landscape is populated with new opportunities to make government services more accessible.
Let's understand the 9 pillars of the digital Bharat mission…
Broadband Highways
Broadband highways are one of the 9 pillars of digital India that aims to connect rural areas with broadband, improve broadband in urban areas, and national information infrastructure that integrates the digital infrastructure of India.
Rural: For broadband for all in rural areas, optical fiber cables are being laid down. It connects 250,000 villages and keeps spreading under the Bharat Net program.
Urban: The sub-component aims to improve the quality of broadband connectivity in urban areas. To implement this, the Government of India has granted licenses to many service delivery operators or VNOs (virtual network operators).
NII: NII stands for National Information Infrastructure that aims to deliver high-quality broadband services to government sectors, including education, health, finance, and more, to contribute to the digital India mission.
Universal Access to Mobile Connectivity in India
As per the information provided by MeitY, by February 2021, there will be around 37,439 villages in India that have no internet coverage. The initiative is working to widen the reach of its delivery of internet coverage in Indian towns and hamlets.
The rural area is often left out in the cold when it comes to mobile services. It results in limited participation from private sector telecoms and internet service providers, making the digital India mission difficult in many parts of India.
Public Internet Access Programme in India
The public Internet Access program is one of the most significant initiatives under the 9 pillars of the digital India mission. It will empower every citizen by providing them with digitally accessible services.
The post office has been around for centuries, and now they're expanding to serve the everyday needs of Indian citizens. The CSC (Common Service Centers) and Post Offices function as multi-centers so that people can quickly obtain all government e-services.
DeitY has implemented Common Service Centers and increased its access to every village in India.
The CSC successor CSC 2.0, was launched in 2015 to expand its strength across India to all gram panchayats. Now, there is CSC 3.0 DSP (District Wise Service Provider).
The number of total CSC centers has reached 43 lakhs now in the year 2021.
e-Governance: Reforming Government through Technology Under Digital India Programme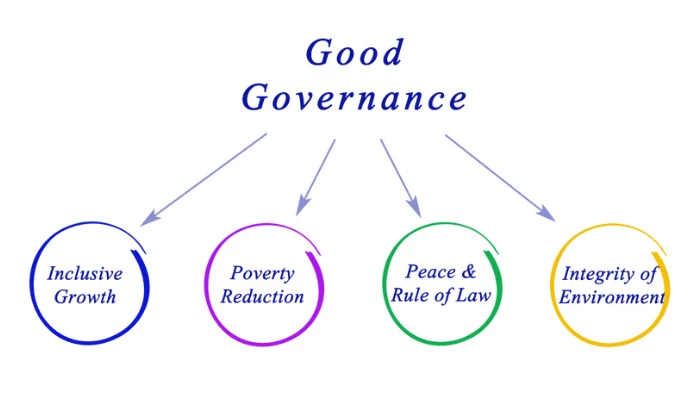 Departments and Ministries are implementing IT to deliver government services more efficiently in the various government departments.
Digitizing government with the implementation of technologies and guidelines like; online application and tracking facility, form made easy by reducing unnecessary fields, and the mandate of online documentation.
To make the documentation availability simple yet secure. The Government of India is mandating the use of open API for data submission, using UIDI systems like Adhaar for identity, and making all the databases available in electronic form.
To resolve the common issues coming due to weak infrastructure, IT is mandatory for data automation.
e-Kranti – Electronic Delivery of Services
The mission of e-Kranti is to change how citizens interact with government services by ensuring that all the services are deliverable electronically.
The digitization of government services deliverability is now more efficient, transparent, and reliable.
e-Kranti is one of the vital pillars out of all 9 columns of digital India.
The mission promotes emerging technologies for the efficiency of government e-services.
Information for All
The mission "Information for all" under the 9 pillars of digital India breaks the barrier between government services and Indian citizens to shorten the communication gap. The idea that came to fruition is that citizens can get everything they need in one place, with just a few clicks or taps on their phone screens!
The Government uses various online platforms to the Indian citizens informed about the services and initiatives. For example, suppose you are active on Twitter and following government agencies. In that case, you will get most of the updates directly from them, without even going to their official website or physical confirmation.
The Government uses e-mail, Telegram, and text messages as a platform to deliver information, not just social media platforms.
Online hosting of documents and information: With the abundance of information on today's global web, it is vital to make sure that everyone has access. Hosting documents and files online will give citizens easy open-source access and encourage them in their search for truth with ease and convenience!
Electronics Manufacturing is Empowering India
Imagine a world where you can manufacture your products without importing them from other countries? This pillar focuses on promoting Electronics Manufacturing in the country with the aim of net-zero Imports.
Electronics manufacturing in India and zero import, the 7th post of the nine pillars of digital India, is a challenging initiative to implement in India. A list of actions needs to be completed to make the scheme successful, like incentives, taxation, eliminating cost disadvantages, and economies of scale for benefits for local manufacturers.
Action coordination on skills development, PhDs, consumer electronics, smart electric meters, smart cards, incubators, medical electronics, and more.
Existing programs and structures are being improved to achieve the goal.
IT for Jobs in India Under 9 Pillars of Digital India
The IT sector has been growing in India with rapid speed. The pillar aims to empower the youth in India. It has been building resources to train them in the IT sector to get opportunities in this emerging sector.
It focuses on the people living in small towns and villages to train them in the IT sector. Previously, it had aimed to train one crore students over five years to help them get a job in the IT sector.
It is digitizing the states in North-Eastern India by providing ICT-enabled growth services by setting up BPOs. ICT-enabled services can be facilitated, consumed, evaluated, and delivered electronically.
 It is training three lakhs service delivery, agents.
Skill development to 5 lakh rural TSPs.
Early Harvest Programmes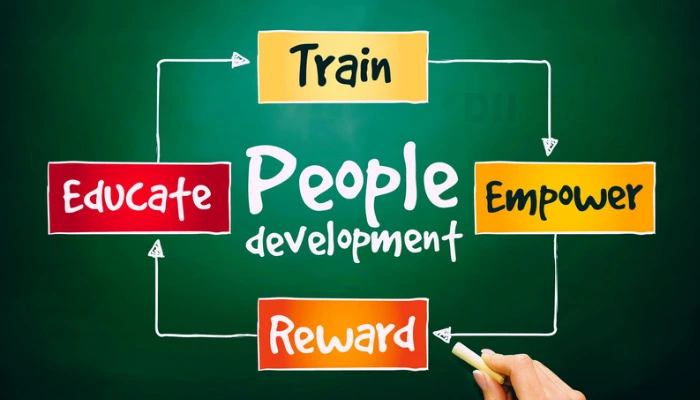 This one out of the nine pillars of digital India aims at slight improvement in technology infrastructure. The pillar focuses on fulfilling the digital India mission by improving and providing facilities for various areas in India.
DeitY has developed an application that handles elected representatives and government employees.
School e-books facility,
E-Greetings facility started on August 14, 2014,
Bio-metric attendance portal initiatives for central and state governments,
Universities under NKN (National Knowledge Network) are facilitated with WIFI,
Secure e-mail facility under all government departments,
Real-time portal facility for lost and found children.