The article talks about the Government schemes and plans designed to help businesses get off the ground, empower women, create opportunities, and much more.
Either the State Government or Central Government announces the schemes (also known as Sarkari Yojana). But, sometimes, Center and State Governments collaborate to implement new projects, such as Swachh Bharat Mission (Gramin).
Government Schemes for a Business and Individual
Indian government understands how important businesses are for the development of the country and the economic growth of India. There is an increase in the number of startups and entrepreneurship in India. Since these businesses get recognized globally, they help in making the country's economy stronger.
To help these emerging businesses and provide social security to the people in India, Union Government has introduced many schemes. These schemes give better support to startups, entrepreneurs, Indian citizens.
To understand the schemes better, I have divided them into two parts. It is easier to pick one and start learning about that.
Startups Government Schemes
The government of India launches the union budget every year on February 1st. Various important schemes are announced during the budget session. You are going to know about schemes launched in the current and past several years to encourage businesses.
Individuals Government Schemes
India is the seventh-largest country with more than 1.25 billion people. It is a country that is known for its cultural differences and diversity. India has a lot to offer, but many of us cannot afford it. There are many different types of government programs that cover several issues.
Importance of Government Schemes
India has always been a good destination for ambitious entrepreneurs who want to start their businesses and compete with international players. However, the government has made it easier for entrepreneurs by providing subsidies and other incentives.
Like, to encourage startups and innovation in the country, the Indian government has launched various schemes for those looking to start their own business, from funding options to tax benefits.
Not just businesses but citizens in India are also benefiting from the support of the government of India. The government of India brings several schemes to help Indian citizens. These schemes provide financial support for the needy and poor people. Under these schemes of the government of India, the Indian citizen can get support for housing, education, loans, pension, and so on.
We often overlook the impact of government schemes have on our lives. They ensure equality and provides opportunities to all citizens.
Every initiative launched by the government of India has a specific role to play in ensuring that the general public is being taken care of in one way or another.
There are many welfare schemes in India that help citizens in various ways. They support financially, economically, and also give a lot of social security. Let's see some important features of these schemes:
Security amid financial uncertainty.
Supporting weaker sections of society, women, and small businesses.
Creating employment opportunities,
Digitalization of rural areas in India,
Improving education quality and infrastructure of schools and colleges,
Providing equal opportunities to the weaker sections of society,
Financial security to old people and girls in India
Financial supports for Indian farmers,
Improving the quality of life in various sectors from healthcare to education in India.
Why Indian Government Schemes fail: Brief Insight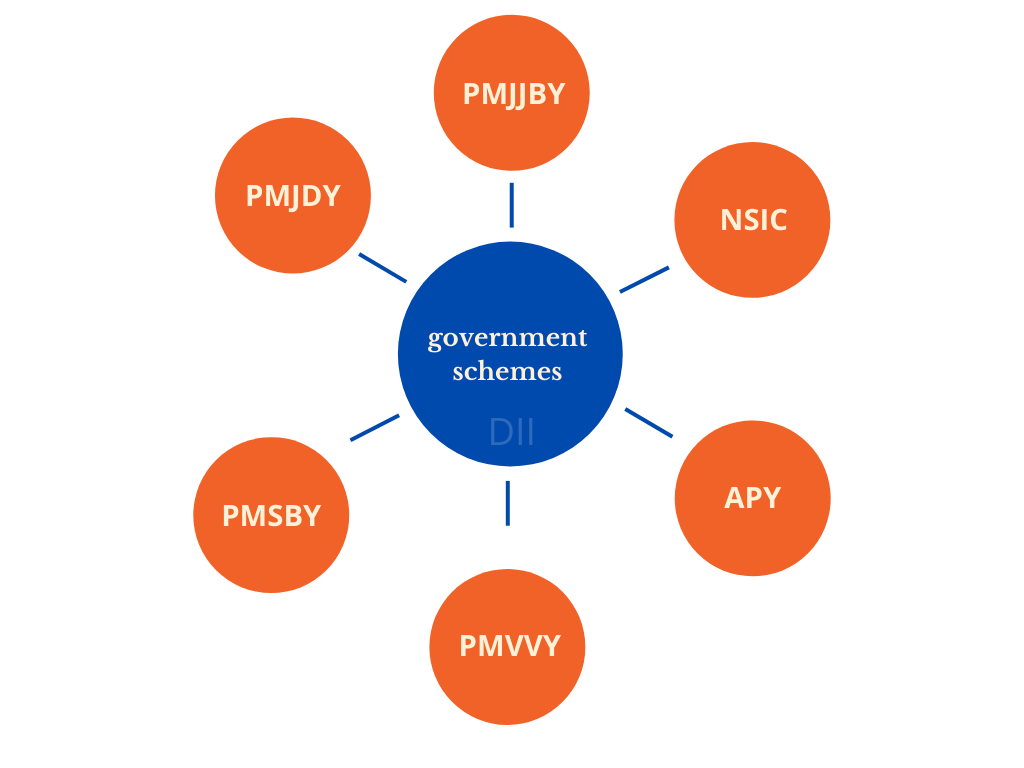 India is a country with a strong government. It has always been a priority of the government to ensure that the people of the country are getting the facilities and services which help them live a better life.
The Indian government has also been trying to make sure that the government schemes are made more effective so that more benefits can be gained by the people. These schemes often create a lot of hype and are targeted at the middle class and common folks earning average incomes.
Despite all of these, the schemes fail in India. The government announces a new program every year. But, due to the lack of electricity, internet, general awareness, and promotion of these programs, they do not get much attention from the public.
The government of every nation loves to introduce new schemes and plans here and there. The people must be aware of these new initiatives to take full advantage of them.
The government has launched many new schemes in India that you are going to learn about in a particular section of this article scroll back. There you will find the complete information from learning to applying for the schemes yourself.
If you find any error or misinformation in the article, feel free to write me by accessing the contact form page.