SWOT analysis meaning can be defined as a method used to identify the internal and external factors affecting a business. It gives you a plan that is productive and competitive in the market. There are several users of SWOT, like; businesses that use it, nonprofit organizations, and government organizations. You can use it for deciding your career strategically too.
We will learn about its usage of strategic planning for businesses. Interesting, right? Let's know more then!
SWOT Analysis Meaning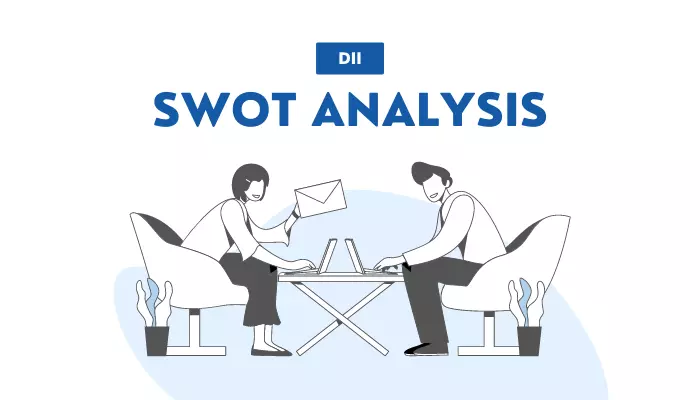 SWOT meaning is strengths, weaknesses, opportunities, and threats. So, the analysis involves these four categories to prepare the best planning for your business idea or an existing business. It can help you explore what could help or hinder the success of your business plan.
The SWOT analysis examines the inside and outside factors of a business. However, you cannot control external factors that affect your business. But, when you know what external factors can affect your business in the future, you can develop effective strategies accordingly.
Strengths and weaknesses are inside factors; opportunities and threats are outside factors. The framework is simple and fun to conduct yet very effective for a strong business strategy. Learn to use it carefully, and you will have a great business plan.
So, you have a better understanding of SWOT analysis meaning now. A universal SWOT analysis definition for the rest of the readers who need one more shot of explanation:
It is a study used for analyzing the strengths, weaknesses, opportunities, and threats of an organization for a great business plan and strategic decision.
It helps you to take full advantage of opportunities by lowering weaknesses and threats and pushing you to focus on your goal.
Related: Learn About Mind Mapping Techniques for Finding Out the Business Idea
Conducting a SWOT Analysis of a Business
A SWOT analysis can be used in any stage of your business, whether it's about taking a strategic decision for your business growth or writing a business plan. It can help you follow the right path and save you from problems you could face later on.
It helps you to fulfill the business goal and mission,
It helps to grow your business and its emergence,
SWOT can help you to obtain more innovative and problem-solving ideas,
It fulfills the business needs without losing the ability to generate more profits.
SWOT analysis meaning is not limited to its definition. It defines itself as a problem-solving approach by answering the most important questions during your strategic planning for your business.
How are you going to start it?
Can you build this to be successful?
How can you sustain the development and progress of your business?
How to make it better?
How to Do Your Own a SWOT Analysis
You can conduct a SWOT analysis with members of your organization. These people can be managers, marketing teams, operations management, and your clients too. These participants can give you a good insight into your strategic planning for business growth or upcoming product launch. However, you may have to explain the SWOT analysis meaning as well for better input.
Related: Boost Your Marketing Strategy With the 7 Ps Marketing Mix Technique
If you are working on a business plan for your upcoming business, you can still follow the same process. Alternatively, you can take surveys. Your family or friends can help you too. Ask them what SWOT analysis is. And note their input on each category. That is simple!
Look at the infographic below, tell me, how many squares are there?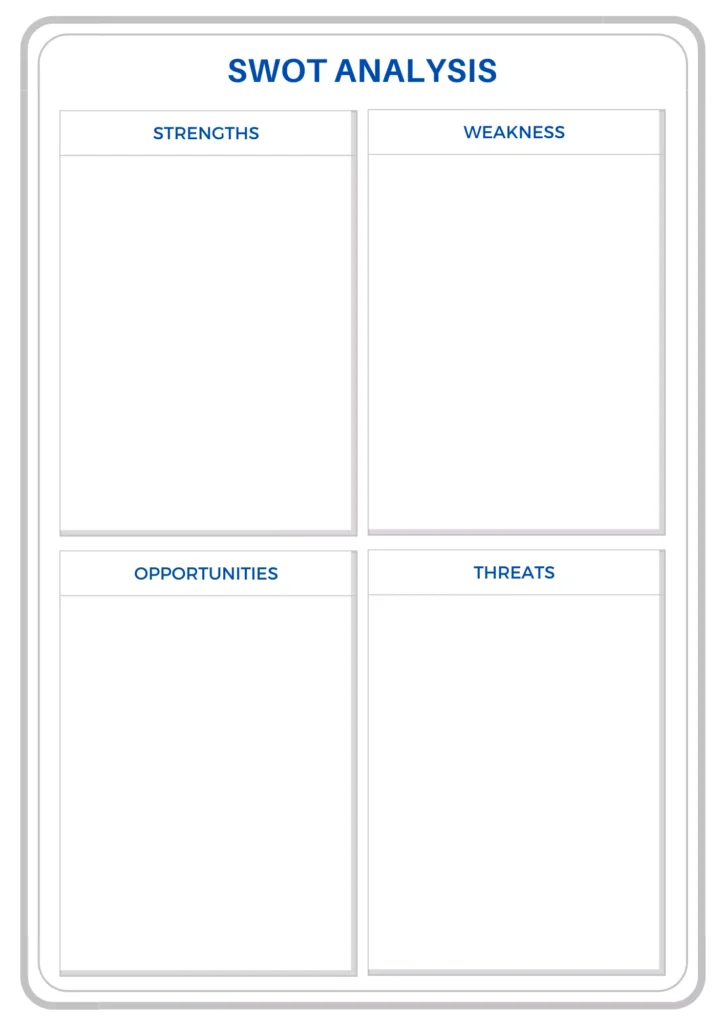 eh, that was a bad joke!
The picture you see is actually a template we use to conduct our analysis process. You can download it right here. When you write your thoughts and strategies on the SWOT template, you can organize it conveniently and find it easy to follow later. However, you can also write it in your notebook.
Think about a set of questions that you can ask in each question of strengths, weaknesses, opportunities, and threats. If you are not sure what to ask, I have put some questions pre-cooked for you.
Before you swift to the questions directly, follow the guide below and understand more ideas you can use to conduct the analysis process.
Do you remember, we had talked about the different departments of your organization; like managers, marketing department? Great!
Organize a brainstorming session for each strength, weakness, opportunity, and threats categories. Distribute the template to each of the members. Ask them to write relevant factors in each category. In the beginning, they do not need to elaborate their thoughts. They can use bullet points to mention the most important aspects of each specific area.
Answers the Below Questions During SWOT Analysis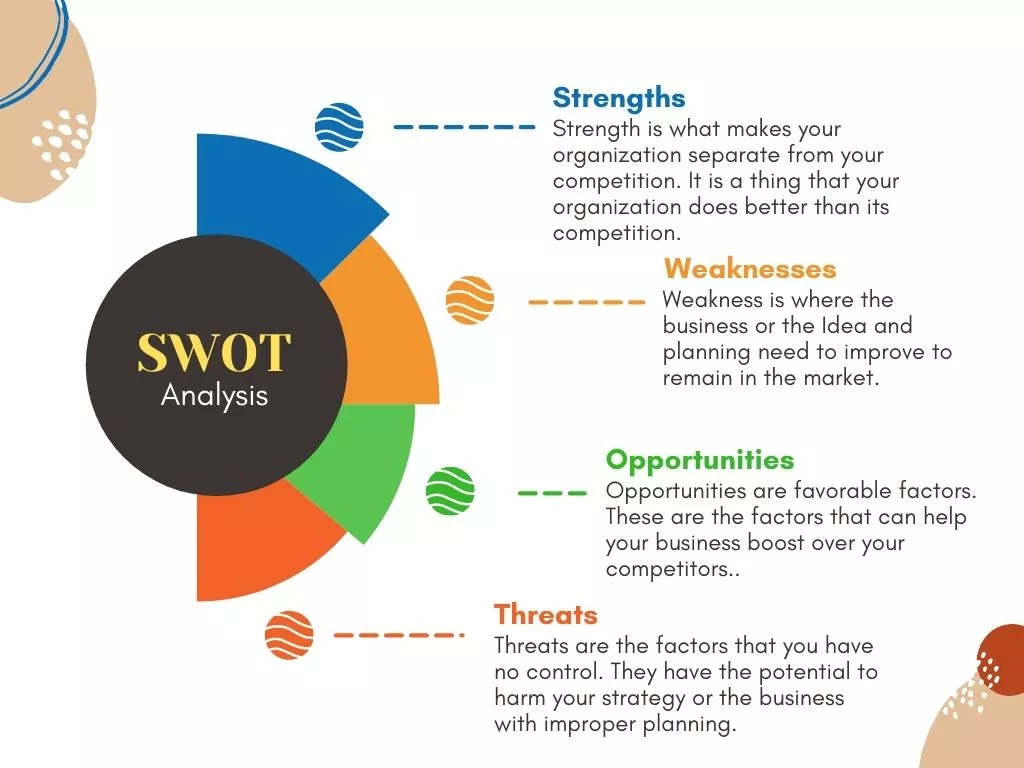 The SWOT analysis definition is all packed in a square. It has four categories. The members need to answer the questions of each category relevant to serve the specific reason. That will help you gather meaningful information from strengths, weaknesses, opportunities, and threats.
To get started; explain the SWOT analysis meaning then ask the questions below:
Strength in SWOT Analysis
Strength in SWOT analysis is the internal factor affecting the business. It can be controlled by a business in its favor; like the staffing, the best of your product, and services.
What are the resources you already have?
What advantages do you already have?
What can you do that is better than the competition?
What do others see in you as your strength?
What are the positive aspects that you have over your competition?
Weakness in SWOT Analysis
Weakness in SWOT analysis is also an internal factor. You can identify the weakness of your business plan or the existing business to improve these aspects. You can work on improving these areas to take a competitive advantage.
What could you work on to improve?
What to avoid that can make it impossible to fix later?
What factors can limit your business growth like; skills, training, etc.?
What can your potential customers see as your weakness over other competitors in the market?
What areas can affect your sales?
Opportunities in Swot Analysis
Opportunities in SWOT analysis are the outside factors that are not in your control but affect the businesses.
What opportunities can you identify that are available in the market?
Is there a company or someone who can be your partner to add more value to your business?
What is trending relevant to the idea that you see as an opportunity?
Can you spot a potential donor for your business?
Threats in SWOT Analysis
Threats in SWOT analysis are the external factors that you have no control and can affect your business. If you can identify them in your planning, you will have an advantage of them. These can be hikes in oil prices, new tax regulations, new products, etc.
What are the factors that make you invest in your business?
Are there any business obstacles?
What technology change is challenging you to grow your business?
Who are the competitors, and what are they doing?
Could your challenges risk your business?
Follow the below recommendations to apply a complete SWOT analysis definition to your strategic planning:
Use the framework and analyze the answers to find relevant information,
Organize the points and select what can be helpful,
Apply recommendations based on the data you collected.
SWOT Analysis of A Company
You must have a great experience in understanding SWOT analysis meaning. It's easy to conduct the analysis process based on the above discussion. By having a detailed conversation with us, you are ready to see a brief example of a SWOT analysis of a company.
Here's the Brompton Bicycle example of SWOT analysis: