A great idea ensures long-term business growth. Here, I have shared a mind mapping meaning and how you can use it to find the right business idea that is unique, profitable, and progressive. It is an excellent tool for thinking out new thoughts and essential facts that relate to the central idea. That means you get the complete picture of a subject and can make the final decision strategically.
What is a mind map?
To understand mind mapping technique, let's learn about the mind map first.
A mind map is a type of tree shape diagram that helps you create a vision board that can represent your ideas. It helps organize your thoughts without fuzzing in between each other.
The map resembles an "umbrella" shape. It has several branches from its center. Like umbrella wire branches, when creating a mind map, you keep the main topic as a central idea and show other related concepts through the branches growing from the center.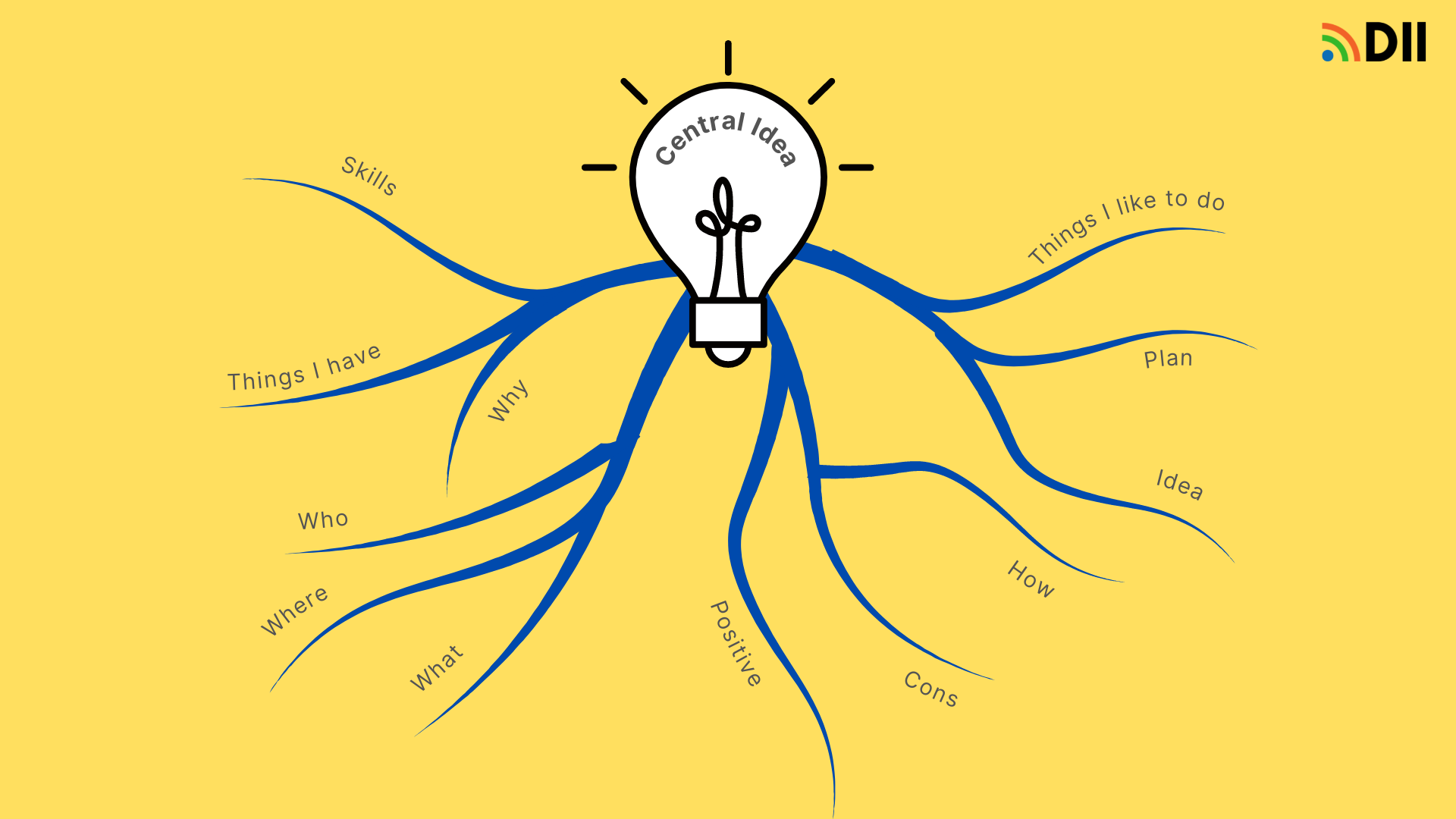 It helps you visualize your ideas and gives you a detailed picture of the proven methods other businesses like yours have used.
There are several reasons you would use the Mind map as a tool. You can use it as a brainstorming tool for generating ideas, taking notes, memorizing information, representing your concept, planning business strategy,  and as a fun way to learn new things.
But, we are up to learning how to make mind maps for a great business idea.
The benefits of using mind maps are not limited to business only. Schools and colleges use mind map techniques to teach business English to economics students, teach history, and much more. Because it is a wonderful tool for teaching and learning.

Now, you know mind-mapping meaning. Keep reading; to learn more about it, and if you are someone looking to generate a business idea, here we are.
Related: 7 Ps Strategy to Market Your Business
Mind Map in Business
Companies use mind map techniques to brainstorm ideas, develop prepositions, and absorb information for better decision-making. Businesses use this as a tool to make boring meetings more exciting and explainable.
It is the most often used technique for meetings, representation, and brainstorming sessions.
Not only that, It helps in many ways:
It encourages the team through visual ideas,
Boost ability to think critically,
Boost productivity,
It helps with making correct business decisions,
You can analyze your competition.
Like the SWOT analysis strategy for business planning, the mind mapping technique helps you by saving hours of meetings and discussions.
Making Mind Maps for Business Ideas
Mind Map is a great way to brainstorm your business idea. You can create a visual blueprint of your brainstorming session by just writing your ideas and possibilities on paper. When you think of brainstorming a business idea, you can use the key phrases and words that should represent your business possibilities.
Let's see how to brainstorm a business idea using the technique:
If you are more than one person, it'd be easy for you to collect a great view within a short period. However, it is not essential.
You can do it using a pen and paper or utilize a software application. I'll share some free software at the end of the article. 
But, before you jump to the use of software, do it in the old ways for a proper understanding of the process.
1. Mind Mapping Meaning to Write Your Ideas
You have come so far. Now, you are ready to draw your ideas. Let's start with picking up a pen and paper.
I recommend using A4 size paper or large enough so you can draw your lines and chart. The landscape position is better than the portrait position for writing long ideas.
We are going to draw a mind map on paper. Let's Keep it straightforward and plain as this is for generating an idea only.
2. The Planning & Process
Before you begin, you must have some pre-planning of what you are up to writing for making a mind map. Start with writing the primary concept in the middle. It can be your interest in a particular domain or just a word.
However, when starting fresh, using the word "business idea" is perfectly fine.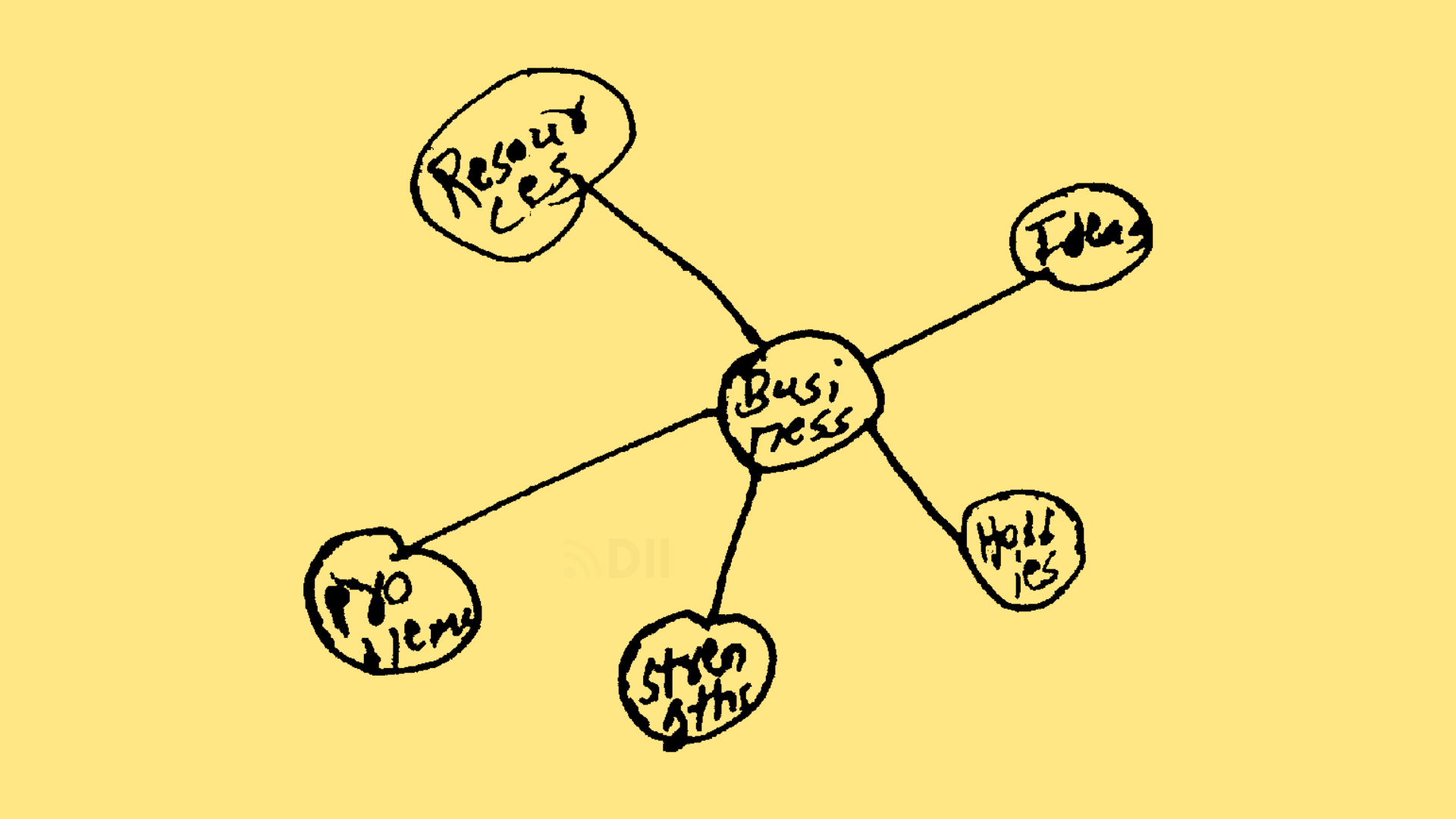 Draw five branches and name them below:
Resources
Problems
Ideas
Strengths
Hobbies
4. Further Spread the Parent Branches
Be more specific while further spreading these five branches. List only those stuff that you have, and you are good at that. For mind map examples, I have added step-by-step images of mind maps for illustrating purposes only.
Resources
Resources could be anything you already have and can be good to stand a business. It is okay to write anything a second time. It's okay. You maybe have a great network, know people, have some stuff that can be useful for others, advantages that you have, and more.
Draw the branches from the resources part of the map and list those connections and kinds of stuff.
Problems
You can easily switch to the next idea you have, and it's very tempting to do. But, the idea has a high probability of failing if it has no mission. Also, it's difficult to find out what problems people face and how you can solve that.
Although, you can do it. Let me help you!
Start with your neighborhood. Think of what problem they face and you have the ability to solve it.
Like you did with the neighbor example, think about other groups of people, society, etc. List those problems.
Draw lines and create branches from the Problem branch. That's how you note the problem in mind map techniques.
Do you know the solutions to solve any of the problems from your list?
Are you passionate to solve those problems?
If you answer yes, that can be a business idea. If you answer no, move on to further process.
Ideas
You might already have ideas. List those ideas by drawing sub-branches from Ideas as a center point.
Strengths
Draw a line from the strengths branch to explain your top strength. Let's say you are good at physics like staying healthy, are good at building websites, public speaking, and more.  Be specific about choosing what you are good at or what you already have.
Hobbies
You have been building something that you enjoy doing. It could be the birdhouse or any DIY stuff. Since you are reading this article, you must have decided to start a business. It's time to consider if your hobby can be your business idea.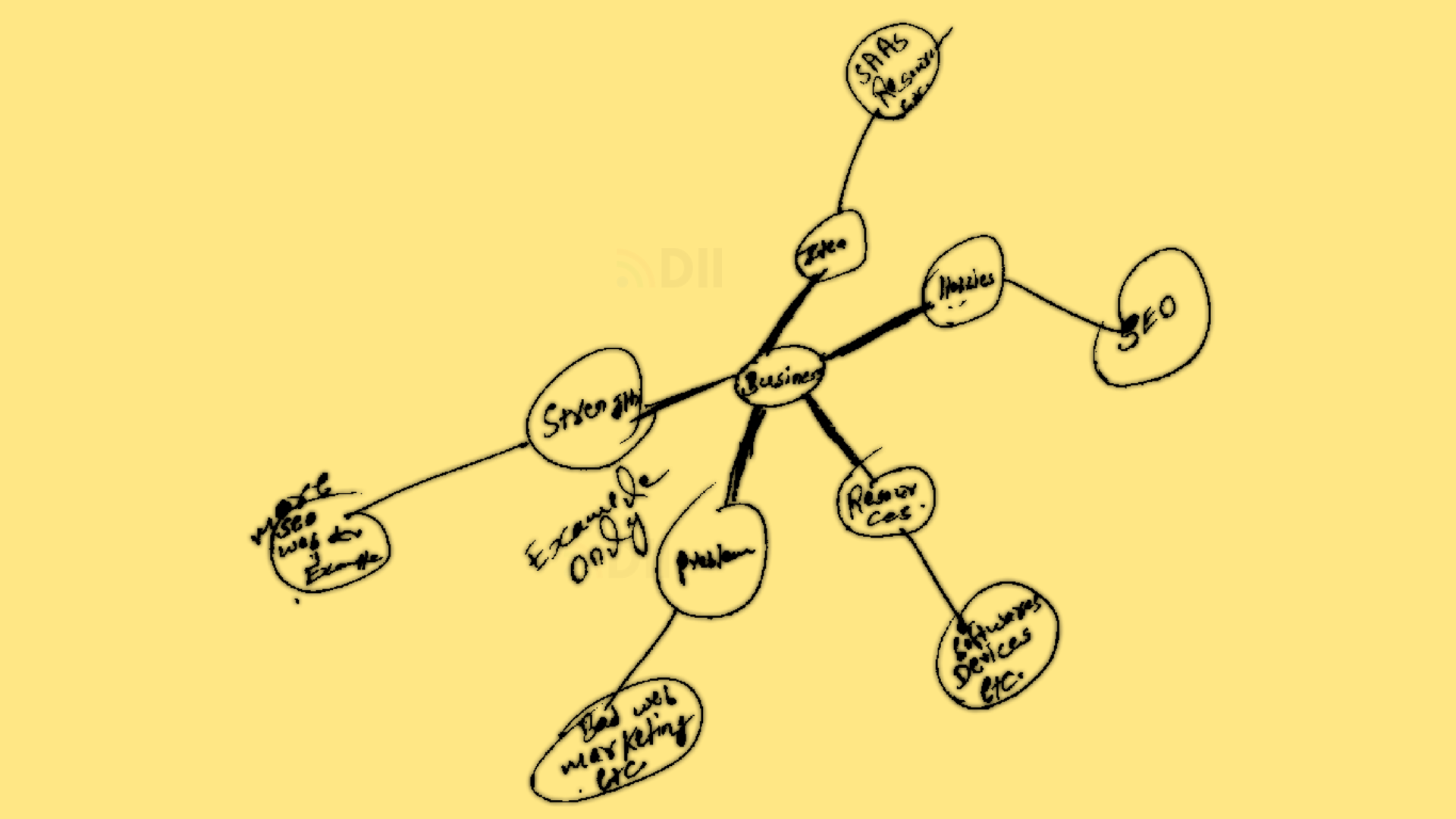 Now, you have enough data to determine what will work and whatnot.
There are no rules that you must follow. Knowing the mind-mapping meaning for solving problems, brainstorming, and much more is essential. So, you are not limited to using it for business only. It is one of the tools that help you with strategic decision-making.
Mind Mapping Examples for Business
Below are the mind mapping examples that may be useful for understanding how to make mind maps for generating great business ideas.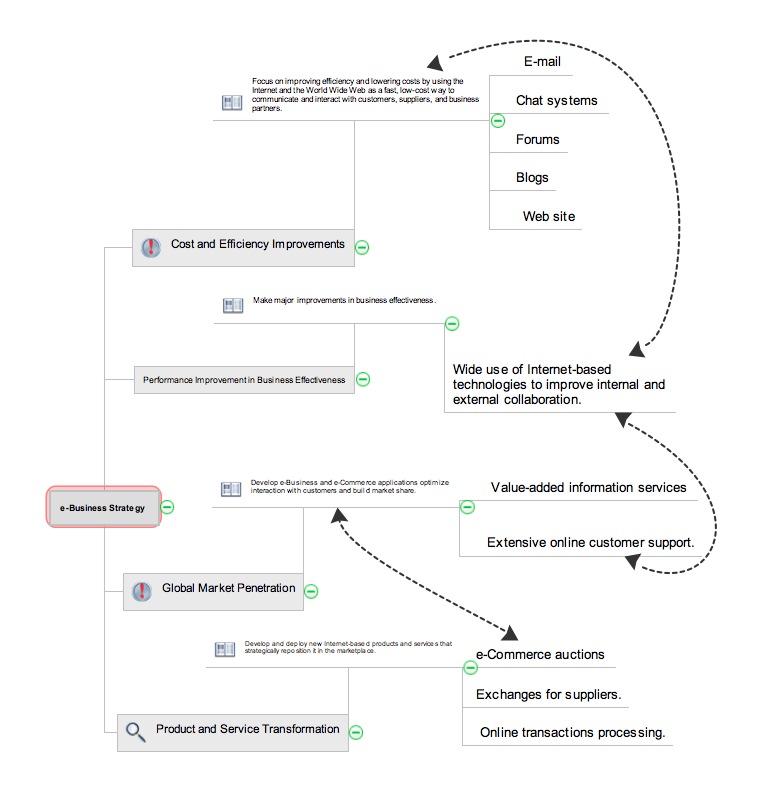 Mind Map Free Software
I like playing with pen and paper because it makes brainstorming much more enjoyable and versatile.
We all have our reasons and different personality. There is many good-to-go mind map free software that you can use for your project. As you know how to make mind maps now, it would be easy for you to draw your idea using both techniques.
Here's the list of free mind map maker software:
| | | | |
| --- | --- | --- | --- |
| S. No | Map Maker Name | Basic Information | Action |
| 1 | GlooMaps | A visual sitemap generator that we use during our website development process. You can use it as a mind map tool. | Free Use Online |
| 2 | Compendium | It is an open-source mind map maker tool. You can use it for any brainstorming sessions in collaboration with the team or alone. | Free Download for Mac/Windows |
| 3 | Wisemapping | Wisemapping is a web-based free and open-source mind mapping tool. It allows you to use it with team collaboration or alone. | Free Use Online |
| 4 | FreePlane | FreePlane is easy to use and has most of the must-have features. You can use it with the team or as a sole user. | Free Download for Mac/Windows/Linux |
| 5 | Draw.io | Draw.io is also a web-based tool that you can use online. It offers essential features like team collaboration, layouts, drag-and-drop, etc. | Free Use Online |