Say no to a business plan without learning about the right planning for marketing strategy. Because; you will not get the profit by luck. You have to work and prepare a goal before you want to jump right into the gain.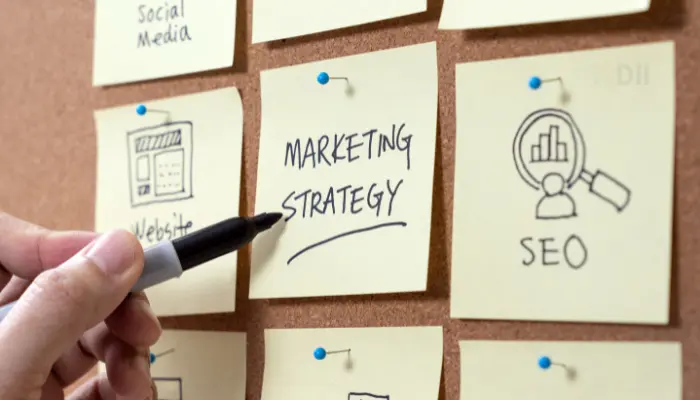 Without a clear goal and the right channel to market your business, it is like; shooting arrows in the dark. No matter what stage your business is on, a well-planned strategy can give your business a great ROI and deliver a brand value proposition.
What is a Marketing Strategy?
It is an overall plan that draws steps for your business growth by targeting the right audience, spending money in the right places, and building a powerful brand.
A marketing strategy plan ensures the appropriate direction to achieve business objectives.
It defines the correct promotion channels, media, and demographic data to reach your targeted audience. A proper strategy will help you manage conversations with the target market.
The marketing tactics should deliver your branding message to the consumers and convince them to purchase your product or services.
It is the part of your business plan that should tell your company goal, product or services, the price, and how it works in response to solving problems for a successful business.
A great marketing strategy planning should direct your advertisement and other campaigns' goals. It should also give you a competitive advantage over your rival businesses.
Related: Mind Map Technique for a Great Business Idea
Why Is It Important for Your Business Success?
The success of your business depends on how well you have prepared your strategies for marketing. A great strategy is a roadmap for achieving your business goal and crafting a value proposition. It helps you know who your ideal consumers are and how you can turn them into customers of products and services.
Your business will not be seen without marketing strategies in your business planning. It is also essential because planning a business without a clear goal will not continue growing in the long run.
After all, there's a saying that failing to plan is planning to fail.
Eventually, According to IBM, 90% of Indian startups fail within the first 5 years of incorporation.
What are the best marketing techniques to use?
During the COVID-19 pandemic, the way of promotion changed dramatically. With the increasing use of digital media, consumers' behavior in purchasing products and services has changed too.
The world is moving to virtual sources to make their purchase. Now, adopting online marketing techniques is necessary for every business.
I am sure everyone has some idea about online techniques you can use to market your product or services. Let's see how effective these strategies are for marketing your business with online channels like blog posts, search engine ads, and more.
Related: Learn About the 7Ps Marketing Strategy
Research by Higher Education and Oriental Studies (HEOS) proves Social Media Marketing (SMM) is one of the most effective strategies.


Market research was done to find out how Covid-19 has changed the way of promoting products/services for SMEs.
Why SMEs?
Because according to a report from World Bank, SMEs (small and medium enterprises) hold 90% of the market and 50% of employment worldwide.
The research says Social media is a great tool, especially during the Covid-19 pandemic. It had become a medium to interact with consumers without physical contact. Businesses can expand their reach to the new target market and even more consumers by using SMM.
Related: SWOT Analysis for Business Planning
Types of Digital Marketing and Their Effectiveness
JBMS (Journal of Business and Management Studies) researched digital marketing tactics' usefulness under extreme pandemic conditions like Covid-19.
1. SEM (Search Engine Marketing)
There are two types of SEM:
The first is ads in search results. In paid search, the product or service is promoted by doing a paid activity on search engines, like PPC.
The second is SEO (Search Engine Optimization). In this, your website is promoted organically by following the search engine algorithm. It is better for long-term growth because once your website starts ranking page first, you'll keep getting quality traffic on your website.

Search ads are the fastest and most strategic method to generate high-quality traffic on your websites to capture. It is one of the most used PPC marketing approaches.

When you search for a product or service on Google, you may have noticed the ads search result first in the list that is one of the examples.
2. Digital Content Marketing
Content marketing involves a lot of content-sharing approaches for promoting products or services. You do content marketing when you post videos, and write on social media, blogs, and other media to attract, engage, and retain an audience.
The ultimate goal of content marketing is to spread brand awareness and become people's choice when it's time to buy the product or services you sell.
During the studies, it is absorbed that content marketing is more effective than traditional one. It is about creating relevant and high-quality content to attract potential customers.
3. Social Media for a Better Marketing Strategy Planning
SMM is one of the digital marketing game plans for gaining profit, building brand loyalty, and increasing website visibility.
Zarella (2010); Kaplan & Haenlein (2009); Weinberg (2009), companies can use social media channels such are online gaming, blog, micro-blogging, and many more, to promote their products or services, provide support, and build an online community.
4. Email Marketing for Improving Loyalty from Clients
Marketing Strategy Planning – E-mail as a tool – Businesses use email to engage existing customers. Email is the most affordable way to interact with your customers. It takes less time to prepare and execute. It is a simple digital marketing tactic that has the availability to direct traffic to your website and sell your product and services to the right audience.
Email is generally a tactic used to increase the loyalty and retention of existing customers instead of a form of lead generation.
5. Influencer Marketing Tactics for Small Business
Influencers are people who have followers and communities on social media channels. They entertain or educate their followers with some medium and prompt products or services by reviewing and recommending them.
Companies that want to promote or sell their products and services work with these influencers to collect feedback and receive endorsements.
So, you have come so far reading about the strategies of marketing. Hopefully, you have selected the mix of the above tactics to capture your target market.
Wait, we ought to select the best one as per the studies. Keep reading to get a picture of the best tactics for your strategic marketing campaign.
A Study About Winning Digital Marketing Strategy
300 MSMEs business owners in NCR are the subject of this study. MSME stands for Micro, Small, and medium enterprises. The researchers have used methods like; online surveys, email, and telephonic surveys to collect the data.
The study used the Likert scale to collect the response from the participants. The researchers analyzed the data and presented it in tables.
Mathematical and Statistical Methods Used for Analyzing Data
Correlation – As its name appears, it shows the relationship between variables and is represented numerically.
Regression is a statistical method used to analyze and comprehend variables' relationships.
Mean and Standard Deviation (Resource to learn about this) – It shows the effectiveness of the tactics.
Table 1: shows the effect of an online marketing plan of action on MSMEs in NCR.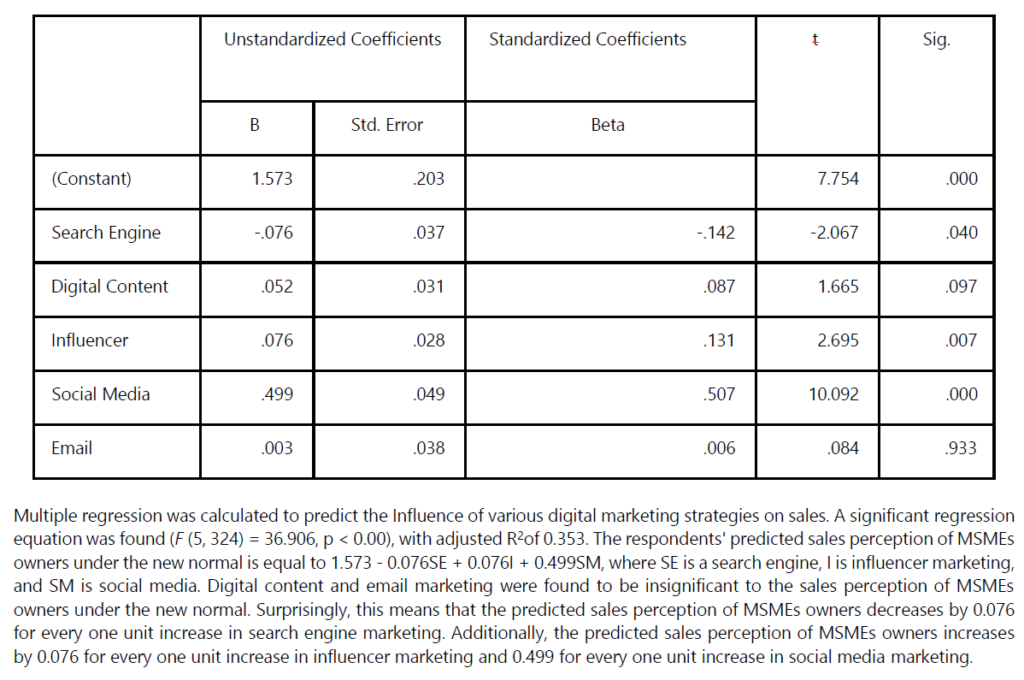 Table 2: shows the convincing and worthwhile digital marketing strategies by MSMEs.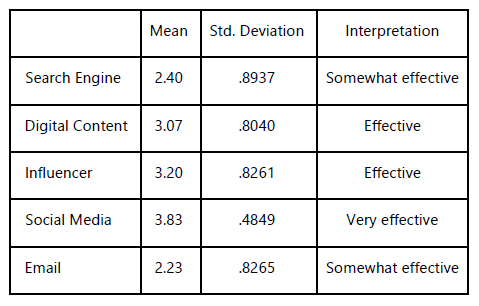 Table 3: shows the relationship between all the digital tactics under the new standards.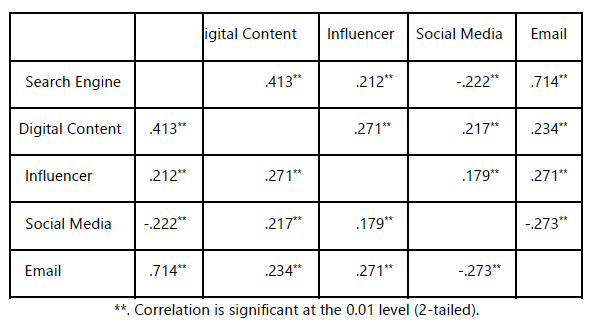 So, here is the result to help you with marketing strategy planning using the above statics.
1. SMM has a low association with influencers and a moderate positive relationship with digital content marketing.
2. Digital content marketing has a low to moderate positive relationship with the rest of the four marketing tactics.
3.  Meanwhile, influencer marketing has a low positive relationship with the rest of the strategies.
4. Email marketing has a low approving relationship with digital content and influencer tactics.
The importance of SMM is well known. It has an inferior opposing relationship with SMM and an increased favorable relationship with search engine marketing.
Result Proves SMM is an Effective Online Marketing Strategy
Social media is a powerful way to deliver your brand message to your audience. It is one of the most effective target marketing strategies to achieve your brand goal.
It can brand and prompt your products and services to a large audience and increase sales.
The researcher has seen MSMEs have gained long-term growth by leveraging social media tactics.
If you are preparing strategies to market your business; SMM can play the most significant role in your marketing plan.

Reference – journals.sagepub.com and koreascience.or.kr