What is Digital India? You may have heard this or maybe well aware of this, but the definition is to keep differentiating every passing year. The country has been making rapid strides to bridge the urban-rural divide.
The Digital India Campaign
The Digital India campaign is a part of Prime Minister Narendra Modi's ambitious plan for what he calls "A Digital India." It seeks to transform Indian society and economy by providing high-speed internet access, literacy skills training, and information technology-enabled services across the board, from agriculture to education. The scheme has been met with mixed reactions from people and business infrastructure.
Digital India by Modi Ji is an initiation to help Bharat in electronic empowerment. It was introduced to help India become digitally empowered and create improved IT infrastructure.
Nowadays, it's easy to access government services online. Years back, it was not simple.
The whole definition of the initiative was explained in two powerful words, "Power to Empower" words are defined as "empowering Indian society by giving them the power of digitization."
When Digital India Launched
The Digital India Campaign aimed to improve the general people's lives. 0n the 1st of July, 2015, Prime Minister Modi launched the program. The initiative ensures that every citizen has access to digital services.
9 Pillars of Digital India
The central idea behind the program is to increase access to technology for more people by working with public institutions to promote technological improvements in the country – especially when it comes to providing internet services to the areas that currently do not have them. The program helps not just citizens but also the government. Below are the 9 Pillars that help to Digitize India.
Digital India by Prime Minister Narendra Modi aims to provide digital access to the nine pillars. The pillars include Broadband highways, Kranti Mobile, Public Internet, Skill development, e-Governance tech program, Information for all, Harvest Program for farming, Make in India, and Information technology for the job.


Benefits of Digital India
As of now, you may know the answer to the what is Digital India program. Many benefits have also been digitizing India and bringing goods to it. The Digital India Programme is helping the country in multiple sectors like eGovernance, Agriculture, Health, Education, Jobs, Manufacturing, Finance, Power, Skill, and digital infrastructure. Some of the benefits of the Digital India Programme are:
Digitizing India and helping it to become a digitally empowered country.
Empowering Indian women.
The number of digital transactions has increased. Now, more Indians prefer Digital payments.
Under Digital India Programme, around 4.3 million CSC units will be registered by 2021.
Introduction of Aadhar Card as a digital identity.
Availability of eSign system. Electronic signature service.
Digital services like eHospital registration, Soil Health Card, eNAM, Digilocker, eVisa, GeM, National scholarship program, and Jeevan Praman are available online.
Digital India Programme promotes Electronics manufacturers and BPO sectors in small towns.
Introduced Cyber Swachhta Kendra to prevent botnet infection in India.
The digital land record was introduced to bring the land data clean and digital.
Digitization in education sectors. This initiative includes SWAYAM, National Digital Library, and National Knowledge Network.
Digitization of rural areas in India is possible under this program. 
The Digital Saksharta initiative, Pradhan Mantri Digital Saksharta Abhiyan, is one of the advantages of Digital India.
Digital India's Three Key Visions
Build safe infrastructure for everyone.
Governance and services at the fingertips
Giving digital access to empower every Indian citizen
All Projects Under Digital India Campaign
The government of India has announced the following initiatives under the Digital India Programme critical visions that provide reliable digital infrastructure.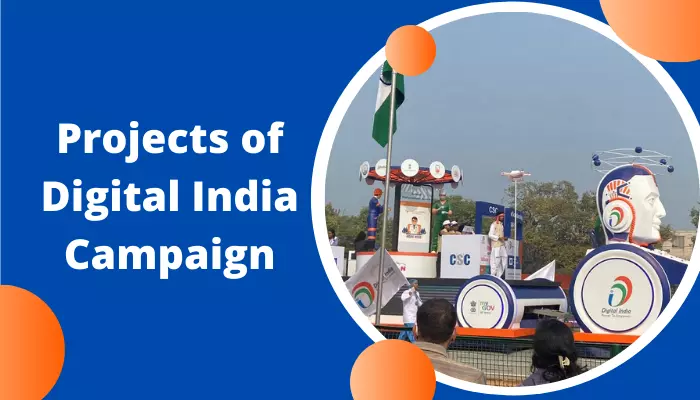 Infrastructure Under the Program
Digital India Campaign infrastructure makes it easy for the Indian government to provide secure and transparent services. Some are;
Aadhaar Facility: Adhaar card is a form of identification issued by the government that allows residents to avail of various services and facilities. Every Indian citizen must have this as their identity. It's also known as the Indian Rupees Card, National ID Number (NIN).
National Knowledge Network: The National Knowledge Network (NKN) is a collection of universities, laboratories, and companies working together to promote India as a hub for innovation. NDL, NPTEL, etc., are some of the NKN-enabled applications.
Broadband: The initiative aims to provide broadband connectivity by connecting over 250,000-gram panchayats with optical fibre cables. About 2,90,162 kilometres of optical fibre have already been laid, connecting 1,15,643 gram panchayats.
Facilitated GI Cloud (Meghraj): Meghraj is accelerating the delivery of various e-government services and web applications. Meanwhile, it is also using government IT infrastructure and funds better. India uses cloud computing services on over 890 government websites, applications, and online services.
eSign Facility: Also called Electronic Signature Service (eSign). You can use this to sign your electronic format documents securely.
Access to mobile connectivity: Mobile services are super popular in the country, but many people living in rural areas don't have access. With the program, rural area digitization is possible.
Government Services on Your Fingertip
Digital payments made easy: The digital payments ecosystem has grown so much. A payment system like BHIM has made it easy. Many brands have used the BHIM method as their preferred payment system. According to the Digital India platform, India had done 163 lakhs transactions of around INR 7065 crore using the BHIM application in 2018. Now, it's as quick as snapping the fingers to transfer money digitally.
UMANG: The app will save you from running around government departments for a piece of work. UMANG is facilitating 21568 state government, central government, and bill payments services and keeps adding more.
AEPS: With this initiative, the government has widened its Digital payment initiative. Now, using Adhaar for your financial transaction is possible at any PoS. Here, PoS stands for Point of Sale / Micro ATM.
GeM Platform: GeM is a Government e-marketplace where you can procure goods and services. You can also apply for bids on various government requirements.
JAM Trinity: JAM Trinity is what we call Jan-Dhan-Yojana. It stands for Jan Dhan-Adhaar-Mobile. The JAM scheme ensures to help the poor in India.
eHospital: eHospital initiative ensures digitizing the doctor service facility for patients in India. The hospital facility allows you to register for various services like online registration, diagnostics report, etc.
Soil Health Card: The Indian government offers SHC under Digital India by Modi. The SHC is a printed document that authenticates the health of your land soil. The authentication is based on 12 parameters. With the help of this initiative, the government aims to help the farmers in their long run of soil health.
eVisa: As its name appears, eVisa facilitates you to apply for the visa online. You no longer need to pay any intermediate or agent to apply for the visa, 'yes, you can do it yourself.
eNAM: NAM stands for National Agriculture Market, which helps to trade agricultural commodities on its online platform.
eCourts: eCourt or Electronic Court is a government of India initiative to improve the infrastructure of courts. The Indian government introduced it to enable computerization in the court systems and reduce the usage of paper and hardcopy during the judicial process. It facilitates easy and automated information accessibility for its stakeholders, provides an affordable justice delivery process, and more.
Digilocker: Digilocker works as a digital document wallet that can store the authentic copy of your essential documents like a Pan Card, Adhaar Card, Driving License, Passport, etc.
Empowering Indian Citizens
IBPS (Small Towns BPO promotion): Promoting BPO (Business Process Outsourcing) is the government's most extensive outreach program to create more jobs and IT growth in rural and small-town areas. The initiative was introduced to digitally transform rural and semi-urban areas in India.
Promoting Electronic Manufacturers: The target is zero import of electronic products. The government of India has brought National Policy on Electronics to match the goal. Many programs have been introduced to enhance the Phds and promote electronic manufacturers in India.
Common Services Centres (CSC): CSC delivers essential government services and schemes, healthcare, education, agricultural-related services, and more to citizens in rural areas.
Digital literacy programs DISHA & NDLM: The program launched as Digital Saksharta Abhiyan or National Digital Literacy Mission helped around 53.7 lakh persons get IT training and certification.
Jan-Dhan-Yojana: The government of India initiated Jan-Dhan-Yojana in August month of the year 2014. The motive for launching this mission was to ensure every individual in India has financial access through a bank account. 
Kushal Vikash Yojana: Pradhan Mantri Kaushal Vikas Yojna (PMKVY) was launched in 2015 as a flagship scheme. The scheme enables Indian youths to take up industry-relevant skill training to help them achieve a better livelihood. It's also beneficial for individuals with prior experience, as the experience can be certified under the RPL.
PAHAL Scheme: The government launched PAHAL on June 1, 2013, to benefit consumers. PAHAL scheme is also known as Pratyaksh Hanstantrit Labh or DBTL (Direct Benefits Transfer for LPG). Under the scheme, consumers can get LPG subsidies. The government re-launched the scheme on November 15, 2014. It has resolved the difficulties faced by consumers. Customers now pay the market price on domestic LPG connections, and subsidies are transferred directly to their bank accounts.
Visvesvaraya Ph.D. Scheme For Electronics and IT: MEITY (Ministry of Electronics and Information Technology) and the government of India introduced Visvesvaraya PhD. Scheme for Electronics and IT. The aim was clearly to enhance the number of PhDs in the profile of ESDM (Electronics System Design & Manufacturing) and IT sectors.
TPDS: Targeted Public Distribution System is a government initiative now to digitise India. It was launched to distribute the foodgrain to the poor in India. It works as a system to identify the poor to deliver its benefits at the FPS level, as it had felt the unorganized sector was not making enough progress and had a high level of corruption.
OpenForge: The government of India has launched a platform with OpenForge to make the government's application development more secure and easy. Open Forge allows developers to collaborate with developers (subjected to approval) who want to get involved in emerging technologies.
NREGASoft: NREGAsoft is an e-Governance system that aims to take NREG over the web to make it more accessible for farmers, thus bringing agriculture into the technological fold. The NREGAsoft project will enable timely payments for NREGA workers, provide them with tools to communicate with their peers and create an online data repository of all aspects of the scheme for better analysis.
Is Digital Bharat Program Going Good?
Is Digital India successful? In short, the answer is yes. Let's see how the answer is "yes."
If you have been using any of the facilities, the chances are the campaign is successful.
Talking about the nine pillars of Digital India, it has created a digital era that's not just limited to its benefits but also creates more job opportunities and helps Indian citizens with their day-to-day lives and businesses.
Digital India Issues and Challenges
You may have got the answer to "what Digital India is."
Of course, the campaign has added value to an Indian citizen's life, but is that easy?
The government of India has launched the campaign to deliver good governance, digital infrastructure, and the other 9 Pillars of Digital India. However, the journey is not easy.
The digital transformation of India is a big step forward for a country like India, where most of the population lives in rural areas. There's plenty to be done! It will take lots of investment to improve the infrastructure and creates opportunities to connect villages to the Internet.
Indian citizens in rural areas lack proper knowledge about the internet and digitization. It's challenging to spread awareness about the appropriate internet usage, motivate them, and be a part of the Digital India Programme.
India is a state of politicians; hence, corruption is also high. It must be hectic to deliver the benefits to the people living in villages. Panchayat, gram pradhan, and other people who claim to contribute to the government effort are all wrapped in corruption.
The campaign faces a significant issue with an insufficiently skilled workforce, which puts a strain on the quality of the service the government of India is trying to facilitate to the ordinary men.
India's Digital Infrastructure is Expanding but Lacking the Latest Technological Innovations that slow the infrastructure development.
With the implementation of the Digital India Campaign, the number of cybercrimes has also increased. Cybercrime and breach of privacy have been a deterrent to the use of digital technologies. Fear of cybercrime and breach of confidentiality keeps many from adopting digital technologies.
Is Digital India Campaign changing the country?
Yes, you have many reasons now.
The Digital India Campaign is a great initiative that can help India move forward and become more prosperous.